Sloped Drain Pans
Sloped drain pans have angled bottoms to promote the movement of the contents in the drain pan toward the drain hole. Whether it is a drain pan that is slanted from one side to the next, or a drain pan with a sloped bottom that moves liquid to a center drain, Killarney Metals has a sloped drain pan that will work for you.
Special Features
Sturdy Construction
Customizable
Evacuates Water
Quality Finish
Advantages Of Slanted Drain Pan Design
One might say that the purpose of the Slanted Drain Pan is quite simple. It's design allows liquids to move from one end of the pan to the other efficiently. Now this liquid can escape through its drain hole and flow to the desired location. Although these statements are both simple and true, they are not comprehensive of the Slanted Drain Pan design advantages.
The typically Industrial and Commercial drain pans are flat bottomed. While these pans have proven sufficient and a reliable source for containing water, lubricants and chemicals, they are not as efficient as the Slanted Drain Pan. The Slanted Drain Pan allows you to move the liquids in a fraction of the time it would take to drain from a traditional pan. You can provide quick, full drainage to the drain hole location with the Slanted Drain Pan.
Stationary And Portable
Slanted Drain Pans can be either stationary or designed for portability. Portable Slanted Drain Pans offer casters and handles that enable you to be confident in your containment process while also transferring with little to no hassle.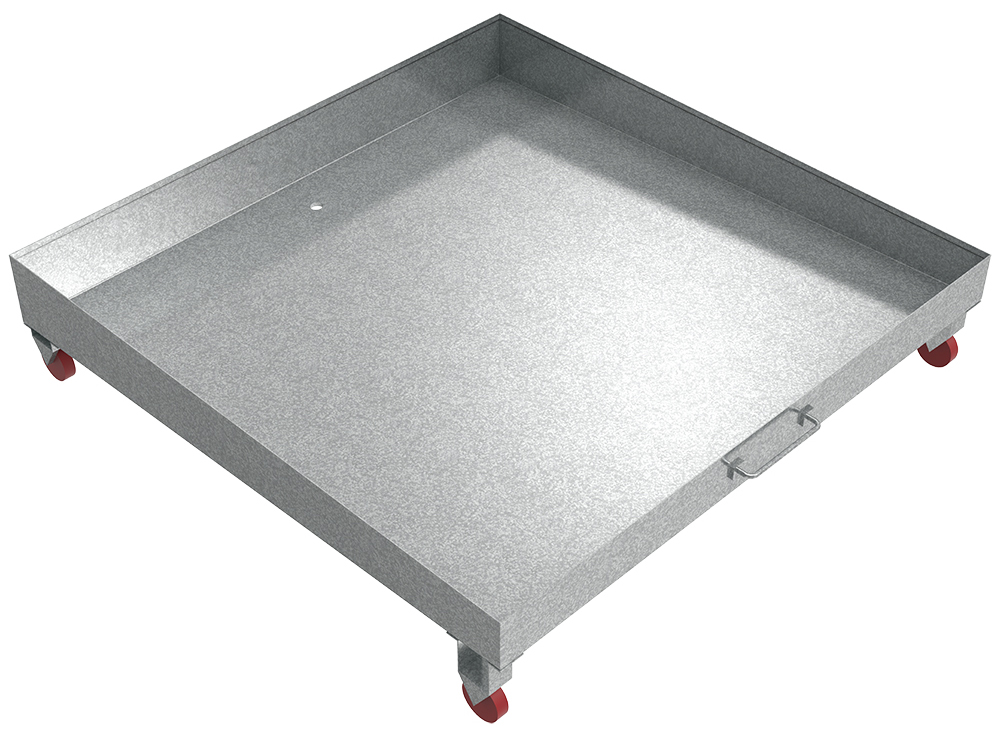 Who Benefits From The Slanted Drain Pan?
Do you or someone you know or love suffer from Asthma, Allergies, or COPD? Then you know someone the Slanted Drain Pan would benefit. Quite often with flat drain pans, they are not very efficient in terms of getting rid of all the water. The water can just sit there becoming stagnant and leading to poor indoor air quality problems and more. In more cases than not, the drain pan is in a closet or other dark environment. When water stands, particularly in high humidity areas, you can develop molds and mildews. Your HVAC system then blows air by these spores which can aggravate somebody with such Asthma, Allergies, COPD or poor breathing capabilities. Slanted Drain Pans allow for the immediate removal of the moisture.
The Slanted Drain Pan Efficiency Benefits
The Slanted Drain Pan can be a great resource in your facility by increasing efficiency. Less time will be needed with its use and less residual build up of oils or other liquids that did not escape the drain. These escapees can end up clogging your drain over time. With preventative maintenance and using antibacterial agents such as pan tablets or pan pads, bacteria and spills can be prevented.