Assembly Drip Pans
Our innovative assembly drip pan system is the link and lock system of the spill containment industry. These large drip pans are designed with overlapping edges to provide a method to built an overall containment solution that will cover a large spill containment area. Once installed, several smaller drip pans will act as one large drip pan. No matter what your needs are for a large drip pan or tray, Killarney Metals can design a system to meet your needs exactly.
Special Features
Industrial Duty Construction
Made in the USA
Quality Craftsmanship
Large Spill Foot Print
The assembly containment pan system provides you with savings on the cost of production, shipping, and installation. It is a better solution than the standard fab solution common in the market today which generally requires on-site welding.
Check out the assembly containment systems and let us know about your custom large footprint containment requirement. If you have custom needs for a large drip pan system, 
request a quote
 for a pan made to your exact specifications, or call our customer service representatives at 
877-801-7417
.
Why Choose An Assembly Pan System?
At Killarney Metals we often receive requests for extra large, industrial and commercial application spill pans. While there are instances that require seamless, extra large spill pans, it is essential to understand that laser beds and forming equipment have limitations that make the manufacturing process of such massive spill pans a challenge. Not to indicate that such drip or drain pans are not able to be produced, however, due to the limitations in manufacturing, the production and transportation of such spill pans can be extremely expensive and therefore may not be in the best interest of our clients to produce.
For this reason, Killarney Metals has created a spill containment pan system; this solution is the comprehensive answer to the production of large industrial pans for oversized spill containment areas. We call this system our Assembly Pan System. Due to this new innovative modular design, in instances where the Assembly Pan System is a viable solution for a customers spill containment needs, that customer will realize both a cost saving in the production of the pan itself and in the cost of delivering the pan system to their facility.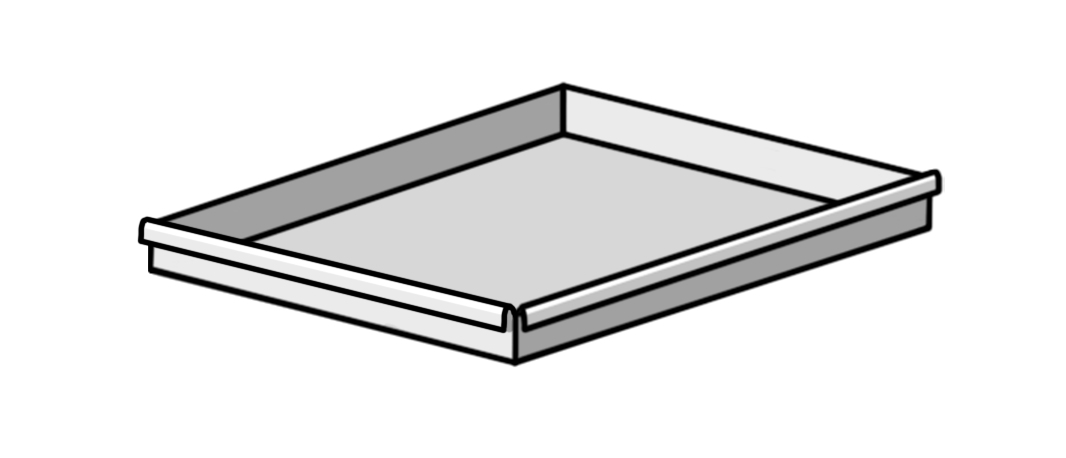 What Considerations Are There When Selecting A System?
While the Assembly Pan System is a cost-effective solution for large spill footprint applications, there are a few considerations that the customer should understand when choosing such a solution. Assembly Drip and Drain Pan systems require an overlapping wall configuration that creates cross-section walls within the spill containment area that may interfere with the footprint of equipment contained within the spill area. For example, if the spill pan system is to cover an area under a piece of CNC equipment that has a large supporting base an intersecting wall may meet within the supporting structures area. When this occurs, the wall will hinder the usefulness of a spill containment solution. If however, the overlapping wall height may be reduced to fit under the support structure, an Assembly Pan System could form a larger spill pan footprint to give containment to the overall area under the equipment.
Another consideration is the draining capabilities of an Assembly Pan System. If the spill containment application requires a high level of fluid flow over the entire spill area, an Assembly Pan System is customizable to meet the overall flow requirements. In these instances, allowing for taller wall heights and a flow-through drain between the pans will enable liquid to flow at a higher rate, providing a necessary spill containment solution for the equipment.

How Does The Assembly Pan System Work?
An Assembly Pan System is designed to create an overall spill containment footprint to match the size required by the application. The spill footprint coverage is divided among standard sized pans that have "rolled edges" that overlap adjacent pan edges to combine the smaller spill pans into a larger single functioning spill pan. The overlapping edges cause the overall system to act as one pan containing all drips and flows from the equipment within the pan footprint. The Assembly Pan System will catch all drips or spills from the machinery and keeps it contained, eliminating hazards from slips or damage from spills in these crucial areas. The Assembly Pan System is a customizable product sold at a standard unit price!
Assembly Pan Systems are manufactured from steel, galvanized steel or stainless steel materials allowing for many options in cost-effective manufacturing processes and corrosion resistant classifications. If your application calls for higher corrosion resistance, we would suggest the stainless material. If however, the application deals with lower corrosion resistance, using steel or galvanized steel material would provide a more cost-effective solution.