Stainless Steel Drawer Liners In The Medical Field

The use of stainless steel in the medical and healthcare industry is extensive. Everything from operating tables to keyboard stands to the various instruments used by medical professionals are made out of stainless steel material. This resource will discuss the advantages found in using stainless steel drawer liners in medical offices and facilities.
What Is A Drawer Liner?
Drawer liners come in a variety of materials, sizes and forms. The purpose of using a drawer liner is for protection of the drawer itself from leaking or discoloring contents that may be held in it. Drawer liners are also used for organization and cleanliness. Some drawer liners are made to adhere to the drawer's surface. Other liners may be made to fit within the drawer snugly so that no movement is allowed. Some drawer liners are made of paper or thin film materials that deteriorate over time while other liners are made of durable materials like plastics and metals. Drawer liners are used residentially and commercially.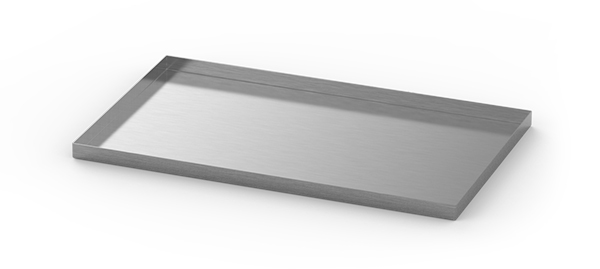 Use Of Drawer Liners In Medical Facilities
Medical facilities, such as hospitals, doctor's offices, dentist offices and other facilities providing medical treatment, have significant storage requirements. Having supplies on hand when needed is an vital part of providing treatment to patients. Drawers in desks, shelving and cabinets are commonly used in treatment and storage rooms of medical facilities. Drawers function to hold all kinds of supplies and even equipment used in medical treatment. It is not uncommon to use compartments within the drawers to organize these different stored items. Also, because of the nature of the medical environment and the frequent accessing of the drawers, damage and spills are not uncommon. Drawer liners are used to provide a barrier between the drawer surface and the articles stored in the drawer.
Advantages Of Using Stainless Steel Drawer Liners
Medical facilities in particular should consider use of a stainless steel drawer liner instead of those materials that may deteriorate or crack over time. Below are listed just a few of the advantages of a Stainless Steel Drawer Liner over those made of lesser materials:
1. Stainless Steel is durable. Stainless Steel is metal and resists elastic deformation from impacts and other forces that may be applied in a medical setting. Stainless Steel Drawer Liners will resist discoloration over time and will resist scratches that can harbor germs.
2. Stainless Steel is corrosion resistant. Unlike other steel materials, stainless steel resists oxidation that forms rust. A Stainless Steel Drawer liner will have a long life of corrosion free service.
3. Stainless Steel resists bacterial formation. According to the National Library of Medicine "Surface finishes on stainless steel reduce bacterial attachment and early biofilm formation." Stainless steel drawer liners will provide a clean, antibacterial surface in areas of storage and in drawers that are commonly used to hold supplies for medical treatment.
Whether simply desiring to organize stored product or in enacting policies to reduce the spread of germs and increase cleanliness, it is important for medical facilities, hospitals, doctors and dentist offices and veterinary offices to consider the use of stainless steel drawer liners in all areas of their facilities. For more information on Killarney Metals' stainless steel drawer liners click here or contact our helpful staff at 877-801-7417.