Drain Pan Fitting Specifications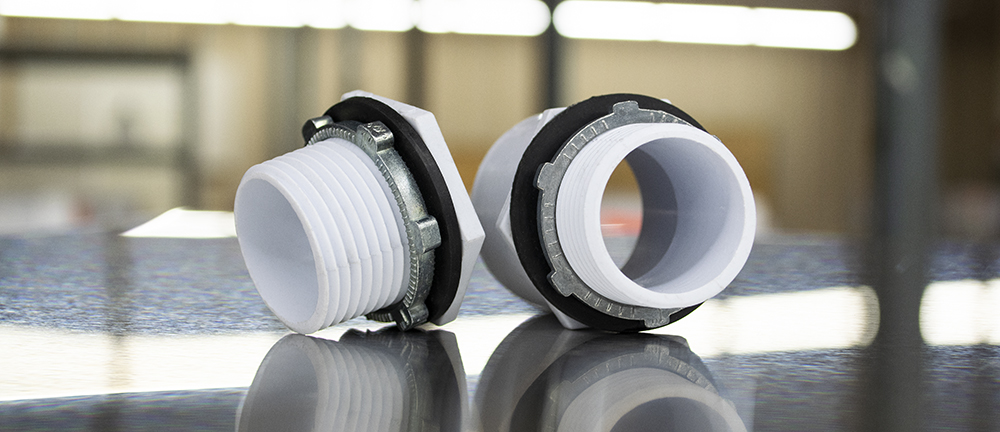 A drain fitting is the most commonly used method of connecting a drain pipe with a drain pan. The drain fitting provides a connection between the drain hole in the pan and a pipe installed to drain the contents from the drain pan to a desired location, generally outside the premises. Drain fittings come in a variety of sizes and configurations. Killarney Metals has developed this resource to help with determining the ideal choice of fitting for your drain pan and application.
Drain Pan Fitting Materials
Drain fittings are manufactured from plastics, metals and specialty materials. The most common fitting used with drain pans are plastics (PVC and CPVC). For corrosive environments or corrosive material draining it is common for stainless steel fittings to be used, although CPVC materials may handle many acidic materials as well. Plastic fittings are generally less expensive than metal fittings such as galvanized, zinc plated and stainless steel drain fittings.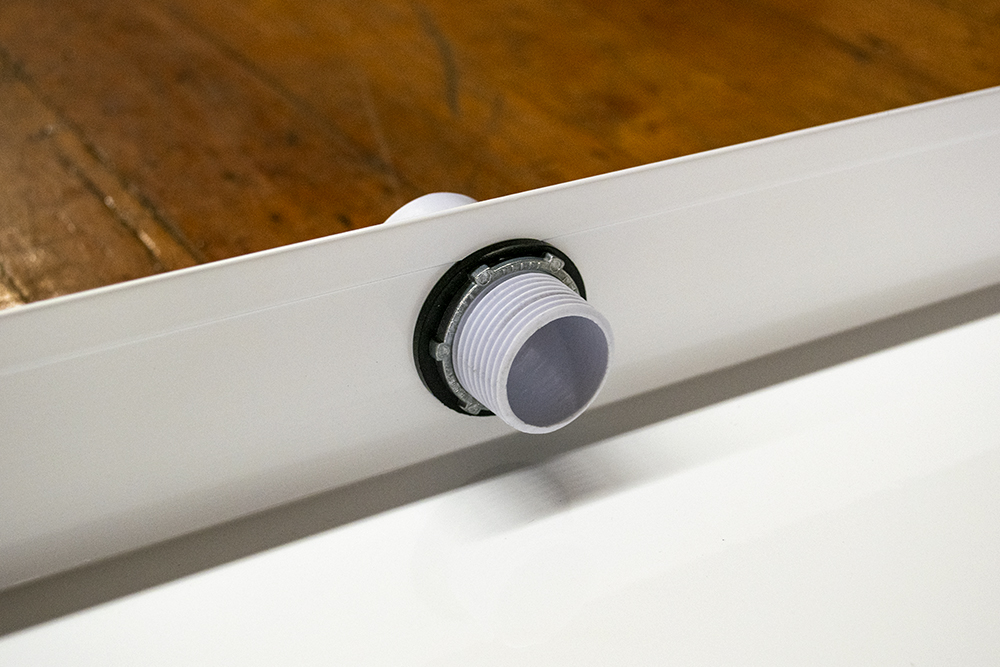 Tpes Of Drain Pan Fittings And Drain Connectors
While almost any drain fitting can be used with a drain pan, the most commonly used fitting configuration is the connector format which allows the pan to be connected to a drain pipe. A connector drain fitting may come in a format to be "cemented" together with the drain pipe using an adhesive. However, the connector format using a threaded shaft and tightening nut (coupling) is far more commonly used with drain pans since there may be times to disconnect the pan from the drain pipe for maintenance or replacement.
Whether using a permanently cemented drain fitting or a coupling format, it is very important to include a gasket to prevent leakage at the drain pan wall. Also, if the drain pan hole size requires a fitting size that does not match up with the drain pipe sizing, it is important to get an adapter connector style fitting that will accommodate the change in sizing.
Some alternative terminology for drain fittings in the coupling category are: through-wall fitting, panel-mount couplings and bulkhead couplings.
DRAIN HOLE SIZING FOR DRAIN FITTINGS
There is some standardization used in sizing drain pipes. Based on this standardization, Killarney Metals has developed the chart below to help with the selection of drain pan fittings based on drain hole sizes.
| Pipe Size (in) | Min Drain Hole Size | Style | Material | Available @ KM |
| --- | --- | --- | --- | --- |
| .25 | .6 | Coupling | - | N/A |
| .5 | .9 | Coupling | - | N/A |
| 1.0 | 1.32 | Fitting | PVC | KM-00663 |
| 1.0 | 1.32 | Coupling / Cemented | PVC | KM-00662 |
Killarney Metals specializes in providing solutions that contain and move unwanted fluids in residential, industrial and commercial environments. We also custom manufacture drain pans to the size required. For more information on Killarney Metals and our products click here or contact our helpful staff at 877-801-7417.