Open Front Trench Drain Pan - 34" x 30" x 1" - Stainless Steel
The Trench Drain Pan is innovation at its finest when it comes to simplicity of use in spill containment technology. Our Trench Drain Pan provides the perfect solution for the tricky installation of equipment inside your spill containment pan. No more dealing with dollies or arm straps or worry about crushing pan walls when installing heavy machines in your drain pans.
The Trench Drain Pan is fitted with a drain trough on the entry side of the pan so that a piece of equipment can easily be maneuvered into the pan. The drain trough will capture any leaking fluid that might spill from the equipment - keeping your home and factory safe from accidental spills.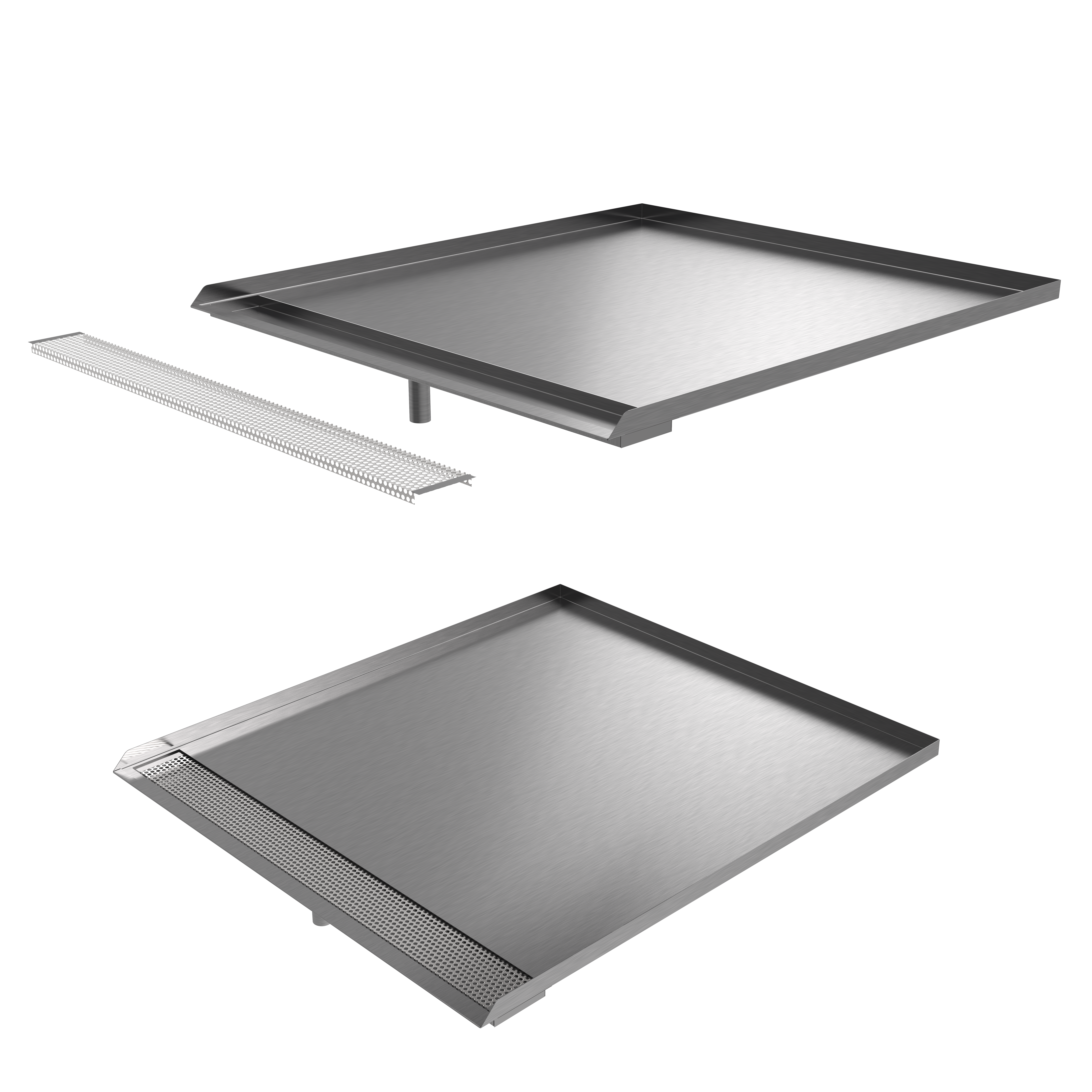 Patented Open Trench Front Design
The open-front, trench drain design on this washer drain pan is protected by U.S. patent #44227-RA. Attached to the pan with strong welds, the open front makes washer installation a breeze. The Trench Drain Pan gives you ultimate peace of mind that a leaking washer won't cause damage in your home!
Product Overview:
34"L x 30"W x 1"H
1" Diameter Drain Hole centered in trench, with tube extending 2.5" below trench
.6" Tall Trench
20 GA Stainless Steel
All edges hemmed at .5" for increased durability.
Welded water tight GUARANTEED

Made in the USA
Weight

32.00 lbs
Width

30.00 in
Height

1.00 in
Length

34.00 in
Compatible model

Virtually any washer with a width of 27" or less, and a depth of 29 inches or less. Specific models include:

Maytag - MVWP575GW, MVWB766FW, MVWB765FW, MVWB765FC, MVWC565FW, MVWX655DW, MVWC465HW, MVWB865GW, MVWB865GC, MVWB835DW, MVWB835DC, MVWB855DC
Kenmore - 22242, 22532, 31553, 31552, 31433, 20232, 20362, 25122, 25132, 26132, 27132, 28132, 29133, 29132, 28133, 22352, 20372
LG - WT1501CW, WT1901CK, WT1150CW, WT7800CW, WT7800CV, WT7900HBA, WT7300CW, WT7300CV, WT7100CW, WT7200CW, WT7200CV, WT7500CW, WT7600HWA, WT7600HKA
GE - GTW500ASNWS, GTW465ASNWW, GTW460ASJWW, GTW335ASNWW, GTW685BSLWS, GTW685BPLDG, GTW685BSLWS, GTW685BPLDG, GTW680BSJWS, GTW680BPLDG, GTW680BSJWS, GTW680BPLDG, GTW755CSMWS, GTW755CPMDG, GTW750CSLWS, GTW750CPLDG, GTW750CSLWS, GTW750CPLDG, GTW755CSMWS, GTW755CPMDG
Samsung - WA54M8750AW, WA54M8750AV, WA52M8650AW, WA52M8650AV, WA45N3050AW, WA45M7050AW, WA50M7450AW, WA52M7750AV, WA50R5400AW, WA50R5400AV, WA50R5200AW
Whirpool - WTW7000DW, WTW4715EW, WTW4855HW, WTW4850HW, WTW4955HW, WTW7500GW, WTW7500GC, WTW5000DW, WTW8500DW, WTW8000DW
If your application requires a different material, material thickness, powder coating, or any other custom specification, please request a quote and reference KM-02289. You may also download the production drawing to make edits to the dimensions of the part. Please feel free to send us an email or call us with any questions you may have. Production lead time for custom pans is approximately 3 weeks.