Spill PREVENTION: End Material Mishandling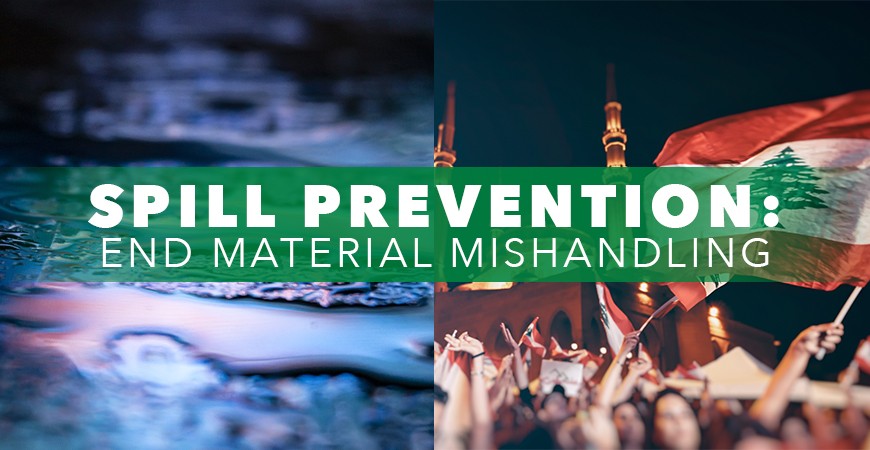 Posted on
08/27/2020
by
121
The Benjamin Franklin axiom that "an ounce of prevention is worth a pound of cure" is as true today as it was when Franklin made the quote. Although many use the quote when referring to health, Franklin actually was addressing fire safety. 284 years later, this statement is a great reminder to keep modern day industrial facilities and those that work there today safe and healthy! 
Unfortunately, the Summer of 2020 has seen more than its fair share of extreme and large scale industrial material accidents. On August 4, 2020 an explosion in Beirut left at least 135 people dead and 300,000 homeless. The disaster occurred in the Port of Beirut and was caused by the explosion of large quantities (2,750 tons) of mishandled ammonium nitrate at a warehouse in the port. More information about this unfortunate incident can found here: https://www.cnbc.com/2020/08/05/beirut-explosion-death-toll-could-top-100-ammonium-nitrate-stash-blamed.html
On July 27, 2020 there was a warehouse chemical spill in the UAE that destroyed tons of food stock for Kibsons Food Company. A forklift truck hit a pipe on site at the Kibsons warehouse, exposing food and other produce to a toxic cooling agent. Read more about this spill here: https://www.thenational.ae/uae/environment/uae-s-kibsons-resumes-home-deliveries-after-warehouse-chemical-spill-1.1057834 
2 separate and major industrial plant plastic material fires occurred at Poly-America plants (one of the largest polyethylene film manufacturers in the U.S) in August. The exact causes of these material fires in Chester, South Carolina on August 24, 2020 and in Grand Prairie, Texas on August 19, 2020 are still under investigation at the time of this blog posting. However, both fires involved wooden pallets, plastics on materials and pallets, trailers, oil drums, etc. Learn more here: https://www.heraldonline.com/news/local/community/article245188585.html & https://www.foxnews.com/us/texas-plant-fire-grand-prairie
Given the likelihood of accidents and/or spills within an industrial facility, what is most important is how to prevent an incident from occurring in the first place. Here are 8 spill prevention and containment steps your business shouldn't ignore:
Store chemicals properly. Hazardous chemicals should be stored in covered areas and should not be permitted to mix with water or other liquids. If such an event occurs, the volume and spread of the spill may increase. When stored in shelves, chemical containers must be effectively fastened within a safe working load, and supported with raised edges that prevent these containers from slipping off the surface. Preventing overcrowding as well as storing at or below eye level are other effective measures to be followed.

Make sure liquid containers are not stored too close to the front of a shelf.

All containers should be stored with the opening on top if and where possible

Use accurate labels. Hazardous materials at the workplace should be labeled clearly and accurately, with words such as flammable, corrosive, explosive, flammable, oil, combustible, etc. Each of these should have adequate containment procedures.

Make sure work areas are kept as clean and clutter-free. Well-kept and well maintained workplaces promote safety; workers tend to have more respect for the facility, their own safety, and the safety of others in such a setting.

Inspect regularly. Inspection at regular intervals by your own business or through specialized third parties will help preempt and prevent leaks at work sites. Carrying out regular safety audits is another important practice.

Ensure safe transportation. During the transportation of hazardous chemicals on site, follow safety measures that include using carts of suitable weight, handling movement with a drum cart and cylinder hand carts that are strapped.

Provide effective worker training. Your crew should be well-trained to handle spills. This should cover the type of Personal Protective Equipment (PPE) to wear, storage applications, hazardous material handling, and clean-up procedures. Regular drills should be used to support and enhance their training. Handling spills through effective containment requires thorough planning as well as putting in place adequate safety (preventive measures) and emergency handling procedures (response mechanisms). This will ensure the safety of your workers, the site and the environment. It will also help you remain compliant with guidelines and avoid hefty fines from the EPA or OSHA. Above all, it is a part of being socially responsible.
A clean, organized manufacturing plant or warehouse is more efficient, more productive, and safer than one that is not. Killarney Metals has the newest and most innovative solutions for industrial spill containment needs and requirements. Learn more at KillarneyMetals.com or call toll-free (877) 801-7417 8:30 AM - 5 PM EST, Monday through Friday for assistance.