Remote Working? HOME Hazardous Material Handling & Storage Tips!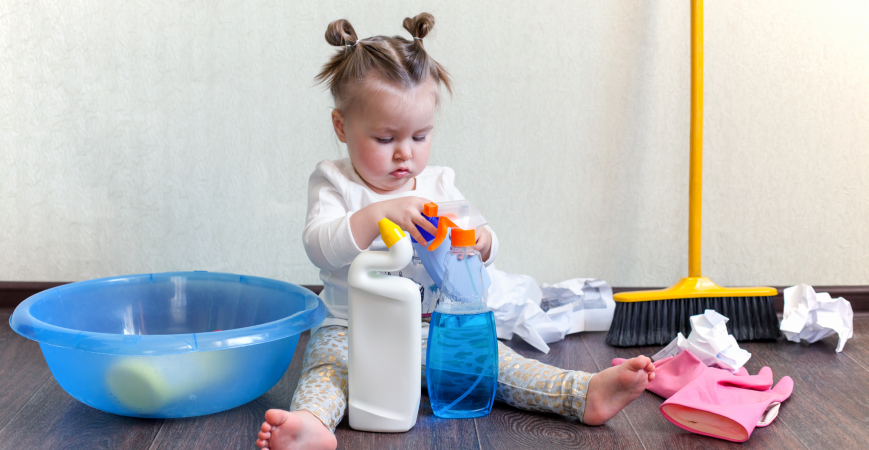 Posted on
03/26/2020
by
292
In the midst of COVID-19, more people than ever are unexpectedly working from home. This presents yet another opportunity to focus on safety by implementing the same hazardous material storage & handling guidelines used at your place of business - now, into your home!
Hazardous materials, by nature, can harm adults, kids, & pets if not stored safely. Proper storage can reduce &/or eliminate the risk of accidents involving hazardous materials. If the substance is ignitable, corrosive, toxic or reactive, then it is hazardous. A majority of household materials/chemicals fit these categories -- including paint, motor oil, antifreeze, insecticides, herbicides/fungicides, cleaning agents, adhesives, art/craft materials, aerosol cans, propane cylinders, moth repellents, batteries, smoke detectors, televisions, cell phones, etc.. As you continually strive to keep your household safe, please check out the guidelines below & share the information with your family members.
Follow all the storage instructions on the product label. Be sure to store all volatile products in well-ventilated areas. Fumes can be toxic to humans & pets. Make certain you store flammable products in the recommended temperature range. The containers will bulge if you store them in temperatures that are too high. Liquid materials will expand, freeze & burst if you store them in temperatures that are too low.

Keep all hazardous materials out of the reach of children & away from pets. Buy products with safety lids whenever possible & stow all hazardous materials kept in the house, garage or basement - behind locked doors.

Use the original container to store the hazardous material. If the label is lifting off, use transparent tape to secure it. Never put hazardous materials in food or beverage containers.

Try to reduce the amount of hazardous materials you keep in storage. Purchase only the amount necessary to complete your current jobs. You may find it better to discard leftover product rather than storing it. Never mix two or more chemicals together. They may react violently, producing toxins, or they may even become ineffective.

Do periodic maintenance of storage areas. Look for problems inside each storage area on a regular basis. Be sure there are no apparent fumes.

In case of an emergency, call the poison control center. Keep the telephone number posted in a high traffic area in your home.
Killarney Metals has home & workplace hazardous material storage SOLUTIONS. Let us help you, by supplying the highest quality, Made in the USA, spill containment & material handling parts in the market - complete with our No Leak Guarantee. Check out KillarneyMetals.com or call toll-free (877) 801-7417 8:30AM - 5 PM EST for assistance.