USE OF SPILL CONTAINMENT IN OUTDOOR ENTERTAINING AREAS
As outdoor entertaining areas gain in popularity, design continues to incorporate in these areas more and more of the amenities that we are accustomed to inside the home. Along with the addition of these amenities, like cooktops, ice makers, refrigerators, etc., come the naturally occurring hazards connected with operating equipment of this type. An ice maker spill on an outdoor patio easily becomes a slip hazard that ruins a social get together with neighbors and friends. Mitigate such potential accidents by incorporating a drain pan into your Outdoor Entertaining Area design.
BREAKDOWN OF THE OUTDOOR KITCHEN
Working grills and cooktops create fluid runoff as they cook. These excess fluids, such as grease, are messy and slick. Left unprotected and unconfined, grease can solidify on tile, stone or other hard surfaces used in Outdoor Kitchens. These areas may become stained with permanent residue, not to mention, become a real hazard for falls. Catch your runoff grease in a drip pan that can handle hot grease, can be cleaned out when necessary and will give a long service life. A quality metal drip pan is just the pan to do the job.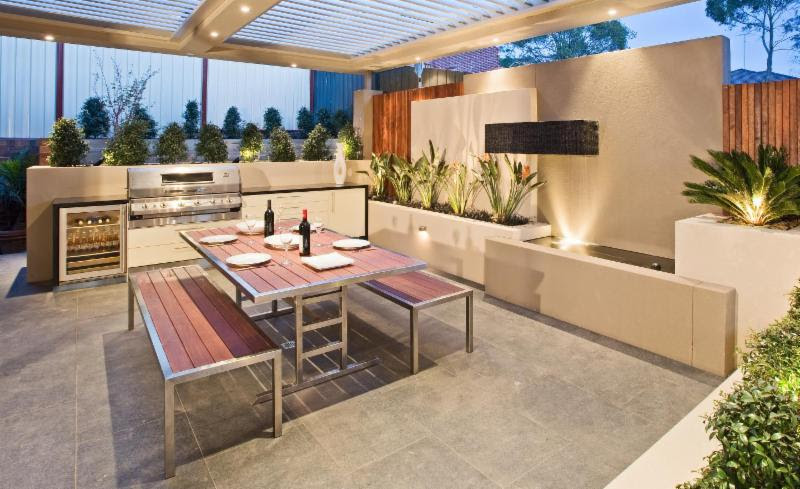 Outdoor refrigerators are truly stressed in the summer climate. The temperature fluctuation prevalent in the hot months of the year put outdoor refrigerators to work! If a refrigerator malfunctions or fails, an instance spill concern exists in the entertaining area. Contain those spills by installing a drain pan under your outdoor refrigerator that will evacuate any condensation or meltdown out of the kitchen.
Of course, any true outdoor kitchen needs to have adequate prep areas, including a cleaning sink. Where else is that lake trout, or mackerel for you ocean goers, going to be cleaned? Any time a sink is involved there is plumbing and potential for leakage of water. In the case of a sink encased in a cabinet this can be particularly troubling since a leak may go unnoticed, all the while destroying the integrity of the cabinet material. Solve these outdoor kitchen sink issues with a simple under sink pan that will protect your cabinet and make you aware of the leak so that a fix can be made.
WHAT ABOUT THOSE OUTDOOR BAR AREAS
We definitely should not leave the Outdoor Bar out of our conversation on spill containment. Drinks are best cold on a hot summer's day and cold drinks need ice. Outdoor ice makers, whether countertop or under counter ice machines are involved, use water. The machines present a potential spill hazard that should be addressed. Fortunately, installing a simple drip or drain pan will assist in preventing any accidents related to leaking ice makers - or messy guests for that matter.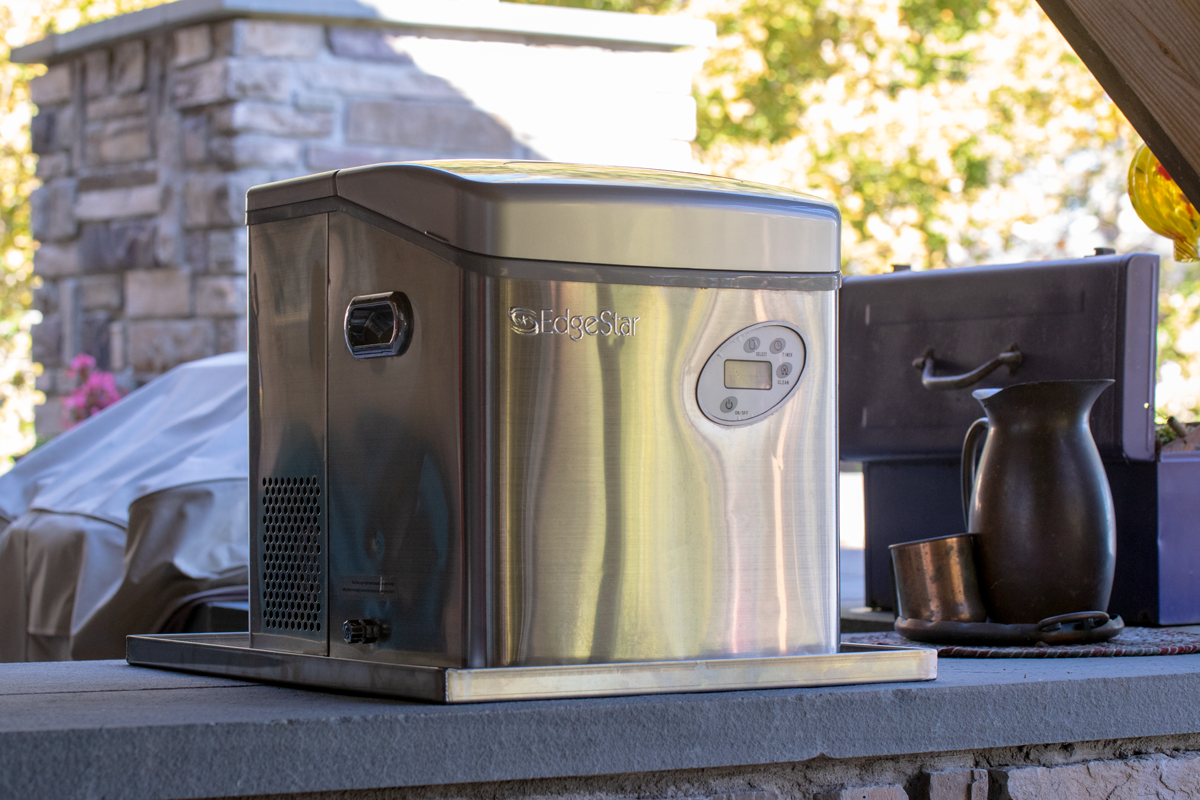 Bar Sinks present the same hazard that a kitchen sink does and therefore should be considered for a under sink pan as well. Even the areas where drinks are prepared may be worth consideration for a specialty pan that prevents the spills inherent in the drink making process. Why should commercial bars be the only ones with fun and the easy clean up as well? A three sided pan with a down flange to hook on your counter may be just the right solution for drink prep clean areas.
ADVANTAGES A KILLARNEY METALS' PAN BRINGS
At Killarney Metals we are in the business of making high quality, durable and even decor enhancing drip and drain pans. We want to make your Outdoor Entertaining Area a wonderful place where fun and joy is had without the risk of falls and accidents from unnecessary spill hazards. We manufacture pans in painted steel, stainless, aluminum and galvanized steels. Our pans are used in all types of applications and in all type of homes and businesses. We can even custom manufacture a pan to the size required. For more information click here or contact our helpful staff at 877-801-7417.