PLASTIC DRIP PANS vs METAL DRIP PANS
Plastic drip pans are commonly used by original equipment manufacturers as an up sale product or a value adder on a product sale such as a household appliance or small equipment buy. While the intention may be to provide the customer some perception of added benefit in having a drip pan, unfortunately, too often the perception is really all there is to the added benefit.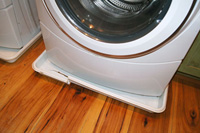 Most thin plastic drip pans are inexpensive and that is about it. They are inexpensive and pretty much useless. Let's get real. A drip pan is bought either as a needed tool to contain a current spill or as an insurance package in case of a future leak. That means that you will need to have a drip pan for a long period of time. Plastic drip pans, and thin cheap metal drip pans as well, don't last.
Plastic drip pans can be significantly affected by the environment in which they are placed. Plastic drip pans will crack and break when exposed to heat and cold climates. Did you ever have one of the plastic sleds they made back in the 80's. One time down the hill was all you got out of it. That is the way many plastic drip pans are made. They look pretty and are structurally sound until they are put in service once. The most dangerous thing about this is the possible cost of repairing damage from a spill that the plastic drip pan was intended to contain but didn't because of those cracks in the corners of the pan. Saving money on the initial buy is not always saving money over the long haul.
There is a saying that you are likely familiar with - "Don't get a boy to do a man's job." Likewise, don't get a plastic drip pan to do a metal drip pan's job. If your required solution involves a heavy appliance, industrial application, temperature changes, exposure to the outside environment, any type of moving around or possible damage in high traffic areas or if you are protecting valuable things like home, office, factory or most important people, don't put that job in the hands of a plastic drip pan. Get a durable, high quality drip pan that will last.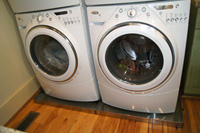 When you have a current or potential spill you need a solid, durable spill containment solution that gives you the assurance of protection that stands the test of time. With Killarney Metals spill containment systems you can count on long-term durable protection against spills. Our products are Safe. Solid. Secure. Quality is what you get when you order from Killarney Metals.